Benign vocal fold tumors are a group of diseases characterized by tissue proliferation in certain areas of the vocal cords and characterized by a benign course: they do not germinate into surrounding tissues and do not metastasize (tumor foci in other organs) that are not characterized by uncontrolled growth, they grow relatively slow. The disease is more common in men, especially over the age of 40.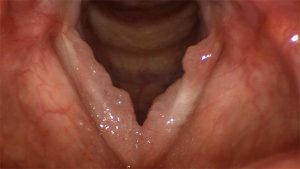 Contents
What Are Vocal Papilloma Symptoms?
Check the most common symptoms of vocal papilloma:
Hoarseness, most often constant.
Rapid voice fatigue (with a long conversation, the voice becomes quieter, hoarse, there is a need to «clear the throat», the voice is silent in the evening).
Change voice timbre.
Tickling, dryness, discomfort in the throat.
Sensation of a lump in the throat.
Sore throat when talking.
Cough, sometimes paroxysmal.
Hemoptysis.
During a conversation, when the vocal cords are closed, the tumor may be pinched between them. This is manifested by the fact that the voice suddenly disappears. Diphthonia takes place when there are two voices of different heights are present when talking. This is due to the fact that the tumor divides the vocal cords into two parts, which fluctuate asynchronously. With a large tumor that covers most of the lumen of the larynx, shortness of breath is characteristic.
How to Disctinguish Papilloma Vocal Cord from Other Tumors?
Tumor-like laryngeal formations and actually benign tumors are distinguished. The possible formations are the following: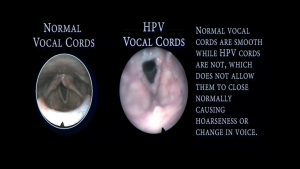 «Vocal nodules» of the vocal cords (in fact, are chronic limited laryngitis — inflammation of the larynx). They usually develop with increased vocal loads in people of vocal and speech professions (singers, teachers, announcers, lecturers, etc.). They are symmetrical rounded formations located opposite each other on the vocal cords. Occur more often in women;
cysts of the vocal cords — vesicles with fluid, may become inflamed with the formation of pus, usually one-sided;
papillomas of the vocal cords — a growth, consisting of edematous pale mucous membrane, sometimes riddled with vessels. Attached to the vocal cords with a wide «leg». Usually one-sided, more common in men;
laryngeal granulomas — formations consisting of granulation tissue (tissue formed at the site of the injured mucous membrane during its healing). They occur after traumatic intubation (installation of a breathing tube for performing operations under general anesthesia or breathing disorders) of the trachea or other traumatic effects on the larynx (increased vocal loads, exposure to harmful factors, etc.). They can be: bilateral or one-sided — in this case, a bowl-shaped cavity forms on the opposite vocal cord.
Actually benign formations differ in the structure of the tissue:
epithelial (formed from the cells of the upper layer of the mucous membrane) — papillomas. Most often have the appearance of papillary growths with a fine-grained surface from gray to dark red. Multiple laryngeal papillomas are called papillomatosis. More common in children. Papillomas are prone to degeneration into a malignant tumor;
from connective tissue — fibroma. Knotty formations, usually gray, can reach significant sizes, not prone to degeneration into a malignant tumor;
from vascular tissue — hemangioma. Usually single round formations of dark red or bluish color, bleed easily, develop more often in the elderly;
muscle tissue — leiomyoma or rhabdomyoma. Education with clear contours, like a knot on the leg. Rarely encountered, grow rather slowly;
mixed structure, for example, angiofibromas (tumors of connective tissue containing a large number of blood vessels).
Often, it is difficult to distinguish one benign neoplasm or a tumor-like state from another one by appearance. The final diagnosis can be established only after taking a biopsy.
What May Cause Papilloma Vocal Cords?
Occupational hazards (work with chemicals, in gassed conditions, etc.).
Bad habits (smoking, alcohol abuse).
Excessive voice loads — in persons vocal speech professions or when working in a noisy industry.
Prolonged or traumatic intubation of the trachea (installation of the breathing tube during operations under general anesthesia or breathing problems).
The cause of the development of laryngeal papillomas is a human papillomavirus of human papillomavirus family 6 and 10. Infection usually occurs through sexual contact, through kisses, common objects (for example, towels, washcloths) or from mother to child during childbirth. The virus can be in the body and does not manifest itself.
Heredity — larynx tumors in the family.
Long-term current chronic laryngitis (inflammation of the larynx), especially its hyperplastic form (characterized by the growth of the mucous membrane of the larynx).
Violations of nasal breathing (frequent or constant breathing through the mouth).
Diseases of the gastrointestinal tract (throwing acidic contents of the stomach into the esophagus contributes to chronic inflammation of the larynx).
Adverse environmental conditions (cold, heat, dry air, dust).
Hormonal disorders (since the larynx is a hormone-dependent organ).
Tumors of the larynx can be congenital.
In some cases, tumors and tumor-like conditions of the vocal cords arise for no apparent reason.
Diagnostics of Squamous Papilloma Vocal Cord
Analysis of complaints and history of the disease inlcudes: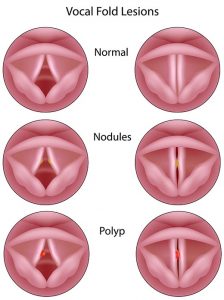 whether constant hoarseness, change of a timbre of a voice disturbs;
how long have these complaints come about;
whether the patient's work is associated with inhalation of harmful substances, if you have to talk or sing a lot, if there are bad habits, chronic diseases, etc.
Examination of the larynx (laryngoscopy) is performed using a laryngeal mirror, and preferably with the help of special laryngeal endoscopes. Pay attention to the shape, location, surface, color, size of education.
Stroboscopy is a method for studying the movement of the vocal cords using intermittent light of a specific wavelength. It allows you to identify fixed areas, violations of vibrations of the vocal cords.
Video stroboscopy allows you to capture an image on the screen.
To clarify the diagnosis, radiological examinations are carried out, for example, computed tomography (CT) scan of the larynx. A biopsy is taken to determine the nature of the tumor, sometimes from several places. If the tumor contains a large number of vessels, replace the biopsy with a puncture (tissue from the inside of the tumor is taken with a special needle), followed by examination of the cells. If the tumor is small, sometimes it can be completely removed by taking a biopsy. Consultation with an oncologist is also possible.
Treatment of Papilloma Vocal Folds
Treatment of all types of benign vocal chord lesions, except for the choroid, is only surgical. Tumors are removed through the larynx (endolaryngeal) using a microscope and microtools or, for large education sizes, by external access (through an incision in the neck). Instead of traditional cutting tools to remove tumors of the vocal cords, laser, electrosurgical methods, ultrasound, cryodestruction (cold) are also used.
Vascular tumors respond well to radiation therapy. They can also be removed surgically, but the risk of bleeding is high. For the treatment of papillomas (papillary growths of the mucous membrane) of the larynx, antiviral, chemotherapy, and radiation therapy are also used. At first, after surgery, voice rest is recommended. In the future, they recommend rational voice loads — try not to scream, not to sing in an uncomfortable range. Breathing and voice exercises should be done.
In the early stages of vocal nodules or vocal cords granulomas (tumor-like conditions that are bumps on the surface of the vocal cords), conservative treatment is possible: observance of the voice mode, voice exercises, exclusion of irritating factors (smoking, alcohol, inhaling smoke, etc. ), infusion of enzyme, astringent drugs into the larynx.
To prevent re-development of the tumor, the following measures are taken:
it is necessary to convince the patient to stop smoking, to explain that with continued smoking, the likelihood of developing laryngeal cancer is quite high;
when working in dusty, gassed conditions, with caustic volatile substances, it is recommended to reduce contact with them, to use protective equipment (best of all, a respirator or at least gauze bandages);
correction of nasal breathing disorders (for example, surgical correction of a curved nasal septum);
timely treatment of diseases of the upper respiratory tract and stomach;
restriction of stay in a very hot or cold, dry, smoky, dusty atmosphere;
staying in a dry sea climate has a beneficial effect;
correction of hormonal disorders;
air humidification in the room.
Prevention of Vocal Papilloma
Timely treatment of acute and chronic laryngitis (inflammation of the larynx).
Compliance with the voice mode (to avoid excessive voice loads), especially for people with vocal and speech professions.
Refusal of bad habits (smoking, alcohol abuse).
Timely treatment of diseases involving a violation of nasal breathing.
Prevention and treatment of diseases of the stomach.
Avoid inhalation of irritants (corrosive or hot vapors, highly dusty air).
Doctors avoid prolonged (more than 3-5 days) or traumatic (for example, using a too wide tube) intubation (setting the breathing tube for breathing problems or when performing operations under general anesthesia).
Check whether you have any symptoms described here and seek medical attention at the first signs of the disease.